The Hap'ning Place Planner 2023
The Hap'ning Place Planner 2023
Please confirm event details closer to the time
or email us here
or 07908771984
January
🥂Happy 2023🥂
3 Lessons Resume at the Studio
30 🌈ChoralTones 7:00
February
6,20,27 ChoralTones 7:00
13-17 Haringey Half Term Lessons Available
24
That's Am
❤️
re
Voice Recital 7:00
March
6,13,20, 🌈ChoralTones 7:00
24 Voice Students Recital 7:00
25 Instrumental Students Recital 1:00
26
Jazz Workshop For Singers
2:00
April
8-10 Studio closed🐣
1-16 Haringey schools Spring Break
Lessons Available
17 Lessons Resume As Normal
May
1,8,29
bank holidays
27-June 4 half term holiday
Tbc
Arias With OrchestraJune
May 27-June 4 half term holiday
Lessons Available
9-11
The Hap'ning Place Concert Series
with The Campsbourne Music and Arts Festival
Captain Lovelock , ChoralTones, Plush, Summer Songs, Ensemble Recital
July
7 Voice Recital 7:00
8 Instrumental Recital 1:00
8-9
The Hap'ning Place Concert Series
With The Crouch End Festival
Captain Lovelock, ChoralTones, Plush, MadriGals, Summer Songs, Ensemble Recital
August
Chios Music Festival
7-11 🏖️Summer Singing Workshop and Holiday Chios, Greece
September
4 Lessons Resume and Haringey School Term
✨Amahl rehearsals
October
Tbc 🎭Musical Theater Master Class for Singers with Bob Lydiard and Megan Thomas
✨Amahl Rehearsals
November
✨Amahl Rehearsals
11, 18 🎅🏻
Christmas Choir
rehearsals
December
🎅🏻Christmas Choir Caroling
4-9 ✨Amahl rehearsals
9 tbc ✨Amahl Performances
14 tbc 🎅🏻St Pancras Christmas Choir
16 tbc 🎅🏻Sainsburys Christmas Choir
22- January 7 studio closed for the holidays

What's Hap'ning Winter Newsletter 2023
🎸🎶🎻🎶🎹🎶
GRADED MUSIC EXAM SUCCESS
🎸🎶🎻🎶🎹🎶
We are SO very proud of our students and teachers over these difficult last few years!
Our students and teachers have worked so hard during these challenging times.
Their application, dedication, inspiration, and practice have produced amazing results.
We are so happy for all of our students but special applause goes to this year's achievers so far:
Ishita Chhabra -ABRSM Grade 4 Guitar with
Distinction
🎸Jacob Elliott, teacher
Hattie Farrer-Briggs -ABRSM Grade 2 Piano with
Merit
🎹 Anna Yang, teacher
Ane Felsa -ABRSM Grade 4 Violin with
Merit
🎻 Tanya Barringer, teacher
Chileshe Gotch -ABRSM Grade 3 Violin with
Merit
🎻 Janet Fischer, teacher
Ishan Sinha-Ray -ABRSM Grade 3 Flute with
Merit
🎶Janet Fischer teacher
Eleanor Skinner -ABRSM Grade 5 Viola 🎻Janet Fischer, teacher
🌈
ChoralTones RehearsalsCome sing with us!
🌈Beginning Monday
January 30
,
The Hap'ning Place ChoralTones Show Tunes Choir
The Hap'ning Place ChoralTones is a friendly group of
adults who enjoy singing Broadway & West End Show Tunes.
The Hap'ning Place ChoralTones rehearse Mondays evenings at
The Hap'ning Place Hornsey High Street studio.
No audition is required and you don't have to be able to read music.
The choir sings the big hits from shows like
Cabaret, Oklahoma!, The Sound of Music, and Oliver!
We perform regularly at charity events and care homes in the area.
We have a lot of fun singing --no complicated harmonies to learn.
Winter Term Rehearsals Monday evenings 7:00-8:00 at The Hap'ning Place
January 30, February 6, 20, 27 & March 6,13,20

🌈ChoralTones Lyrics Sheets
🌈Please click on this link below to download the ChoralTones Lyrics sheets
🎅🏻Join The Hap'ning Place Christmas Choir 2023
The Hap'
ning
Place 🎅🏻Christmas Choir
Our Christmas choir will meet for 2 rehearsals on Saturdays in November 11 and 18, 2023 to prepare for the caroling season. We collect donations for two excellent organizations Great Ormond Street Children's Hospital and Marie Curie Hospice care.
Everyone is welcome and there's no audition to join us, you just have to commit to coming to the two Saturday rehearsals on the calendar.
We have oodles of fun and a good old sing of lots of the familiar carols.
Just download the free caroling sheets here and let me know you're going to join us!
or email us here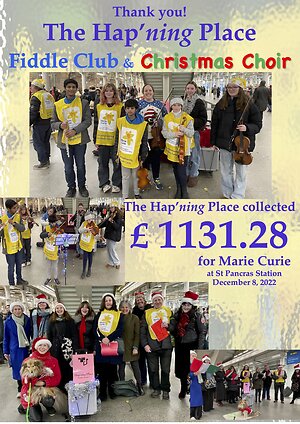 🎅🏻 Christmas Sing Along Sheets 2022
🎅🏻 Christmas Sing Along Sheets
Please get in touch
or email us here
if you have any questions.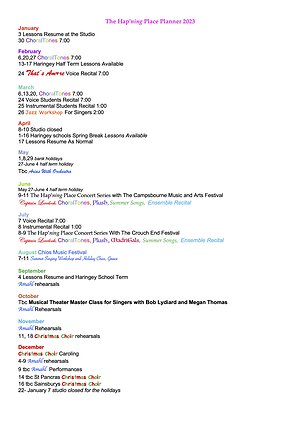 What's Hap'ning?
You can download the planner for 2023 here. Please note that events and dates might change, so do get in touch closer to the time to confirm or if you have any questions
or email us here