The Hap'ning Place Planner 2023
The Hap'ning Place Planner 2023
Please confirm event details closer to the time
or email us here
or 07908771984
September
4 Lessons Resume and Haringey School Term
✨Amahl rehearsals
October
10, 31 Ⓜ️MadriGals 19:30
23 Haringey half term- Lessons available
November
6,13,20 ✨Amahl Chorus Rehearsals 19:00
7,21,28 Ⓜ️MadriGals 19:30
17
Voice Recital
19:00
18
Instrumental Recital
13:00
18, 25 🎅🏻
Christmas Choir
rehearsals 11:00-12:00
25 ✨Amahl Chorus and Cast Rehearsals 12:00
December
2 🎅🏻Christmas Choir Caroling at Sainsbury's
4-8 ✨Amahl rehearsals 19:00
9 ✨Amahl Performances
12 🎅🏻Marylebone Rail Christmas Choir 18:00 tbc
14 🎅🏻St Pancras Christmas Choir 18:00
16 tbc 🎅🏻Christmas Choir Clock Tower and Maynard Pub tbc
22- January 7 studio closed for the holidays
What's Hap'ning Winter Newsletter 2023
🎸🎶🎻🎶🎹🎶
GRADED MUSIC EXAM SUCCESS
🎸🎶🎻🎶🎹🎶
We are SO very proud of our students and teachers!
Their application, dedication, inspiration, and practice have produced amazing results.
We are so happy for all of our students but special applause goes to this year's achievers so far:
Owen Aubrey Ossa-Richardson
ABRSM Grade 2 Singing, Emin Mecnunbeyli, teacher
Eleanor Skinner
ABRSM Grade 6 Viola 🎻
Merit
Janet Fischer, teacher

🌈ChoralTones Lyrics Sheets
🌈Please click on this link below to download the free ChoralTones Lyrics sheets
🎅🏻Join The Hap'ning Place Christmas Choir 2023
The Hap'
ning
Place 🎅🏻Christmas Choir
Our Christmas choir will meet for 2 rehearsals on Saturdays in November 18 and 25, 2023 to prepare for the caroling season. We collect donations for two excellent organizations Great Ormond Street Children's Hospital and Marie Curie Hospice care.
Everyone is welcome and there's no audition to join us, you just have to commit to coming to the two Saturday rehearsals on the calendar.
We have oodles of fun and a good old sing of lots of the familiar carols.
Just download the free caroling sheets here and let me know you're going to join us!
or email us here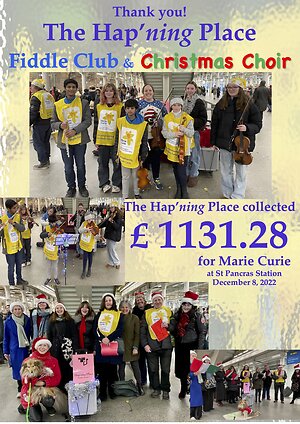 🎅🏻 Christmas Sing Along Sheets 2022
🎅🏻 Christmas Sing Along Sheets
Please get in touch
or email us here
if you have any questions.
What's Hap'ning?
You can download the planner for 2023 here. Please note that events and dates might change, so do get in touch closer to the time to confirm or if you have any questions
or email us here