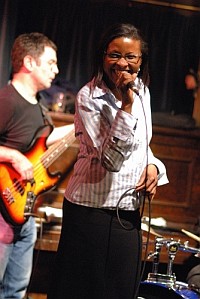 Piano, Guitar, Flute, 'Cello and Violin Lessons at The Hap'ning Place Singing Lessons in North London and Central London
Discover the Beauty of the Music Within You
at
The Hap'ning Place
Stuck at home?
Dust off that guitar at the back of the cupboard, pull that old keyboard out from under the bed or best yet- sing!
Your voice is an instrument you've always had and it's free!
You don't need any equipment other than maybe a glass of water.

This is the perfect time to continue or start your music training at The Hap'ning Place during this coronavirus epidemic.

The Hap'ning Place is offering online one to one lessons from our studio to the comfort of your home or office.
This is an ideal situation for everyone confined to quarters. For children, it will provide some goals and structure their days.
For adults-- a little fun and stress relief.

Individual music tuition is available with our experienced, professional teachers on a flexible schedule to suit you.

For a limited time we're even offering a free 10 minute 'set up' your virtual studio session for your next lesson.
Lessons can be on FaceTime, WhatsApp or our preferred Zoom ( the sound is usually better).
Click here to email your registration for a free 10 minute lesson or phone us on the numbers to the left.
You can also contact us through our Facebook page: Music Lessons at The Hap'ning Place Facebook

As this goes on, we'll be updating this page with dates for details about watch parties, virtual recitals and hopefully choir sessions as well!

Come and join us and make some music at The Hap'ning Place!


Our music students are gently encouraged by our wonderful, qualified enthusiastic teachers in Crouch End N8, Haringey or Central London in one-to-one Singing Lessons, Piano Tuition, Guitar Lessons, Violin and Fiddle classes as well as other instruments at the London studios near Finchley, Highgate, Mayfair and Muswell Hill.


In your individual lessons, your unique talent emerges with the gentle guidance of your teacher, untapping the beauty of the music within you. The Hap'ning Place teachers are all extremely talented performing professionals with a passion for music and enjoy teaching all levels of students.


Free the Beauty of your Voice Singing Lessons
Singers of all ages at The Hap'ning Place have incredible opportunities to learn and enhance their new skills with their dedicated teacher. Liberating your voice allows you to feel confident to sing in a variety of occasions at the studio and beyond.
The studio has choirs, performances, Master Classes and Workshops with visiting international professors in Crouch End, near Highgate, Muswell Hill and Finchley in North London or Mayfair WC1.
You can also prepare and perform for Music Examinations in classical, musical theatre, jazz, or contemporary vocals with the Associated Board of the Royal Schools of Music (ABRSM), Trinity School of Music, London College of Music and RockSchool.


Our popular Piano Tuition, Guitar Lessons, and Violin and Fiddle classes for all ages and ability levels are available Monday to Saturday all day until 9pm at The Hap'ning Place in N8 in Crouch End, within easy reach of Highgate, Islington, Camden, Southgate, Bounds Green, Muswell Hill and Hampstead.
Dynamic lessons with your encouraging and expert teacher result in improved technique and the capacity to play increasingly challenging pieces. You may choose to play for your own pleasure or you can prepare for the Associated Board of the Royal Schools of Music (ABRSM), Trinity School of Music, London College of Music and RockSchool examinations with your experienced teacher.


Violin and Fiddle classes for all levels, led by our devoted teachers, are available after school until 9pm and on Saturdays to children as young as 3 years as well as adults. The half hour or one hour lessons develop the technique and sensitive ear required of string players as you work through the enjoyable lessons using modern techniques. The students can simply play for their own pleasure, or train to audition for orchestras and ensembles and prepare for the Associated Board of the Royal Schools of Music (ABRSM), Trinity School of Music, London College of Music and RockSchool examinations.
Once our keen violin students reach Grade 2/3 proficiency, they are invited to take part in the group Fiddle Club that meets for a violin class once a week. The Fiddle Club performs in the studio recitals, carols for charity, as well as in our students' Ensemble Concert in July.


Piano Tuition is available Monday - Saturday daytimes and evenings on a flexible schedule until 9pm. Our piano students delight in individual lessons tailored to the requirements of each student. Pianists of all ages and levels work with inspirational teachers to help them reach their goals. Whether you aim to play in the style of Duke Ellington, Alicia Keys or Lang Lang, we like to keep the piano lessons enjoyable and fun at the Harringey Crouch End studio. The Hap'ning Place piano lessons near Highgate, Hampstead, Muswell Hill, Southgate, Islington and Camden are close public transport and there is parking available on the street.

Graded Examination for Piano preparation (ABRSM - Royal Schools of Music, Trinity, LCM) is available through to diploma level with our extremely qualified piano teachers.

Whatever level, all of our students are encouraged to take advantage of the chance to play in three studio recitals a year to practice new pieces. For the more advanced students, there is the opportunity to perform solo recitals The Hap'ning Place Concert Series. The piano Master Classes and Workshops with a visiting pianist and teacher is an extraordinary class for those pianists that choose to perform.


Guitar Lessons at the Crouch End Studio, north London can unleash the inner Jimi Hendrix or Segovia in you. Enough with the 'air guitar'! Follow your dreams and learn to really play in the style you enjoy. Guitar tuition with our talented teachers will motivate you to achieve your ambitions. Near Highgate, Guitar Lessons are available on a flexible schedule Monday to Saturday daytimes and evenings until 9pm at the Crouch End (N8) Studio.

One to one Guitar Lessons for all ages and levels can prepare you for the graded examinations (ABRSM - Royal Schools of Music, Rock School, Trinity, or LCM) or to work on audition pieces for a band or university. Some of our more advanced students come in to work technique on particularly difficult songs or perhaps to put down something they have written. Our skillful teachers are eager to help guitarists with that too.


The Hap'ning Place in Crouch End, Haringey is easy to get to from many north London locations such as Highgate, Hampstead, Muswell Hill, Woodgreen, Finsbury Park, Tottenham, Palmers Green, Camden and Islington. The Hap'ning Place Map


Join us at The Hap'ning Place to develop your musicianship and have fun!

Singing Lessons and Vocal Coaching with excellent vocal technicians and pianists
Piano Tuition and Keyboard Lessons to inspire and develop ability
Guitar Lessons to perfect acoustic or electric guitar techniques
Violin and Fiddle classes instructing violinists of all levels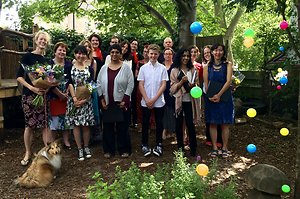 Singers from The Hap'ning Place Crouch End and Central London Music Schools perform in the Summer Songs ensemble concert of duos and trios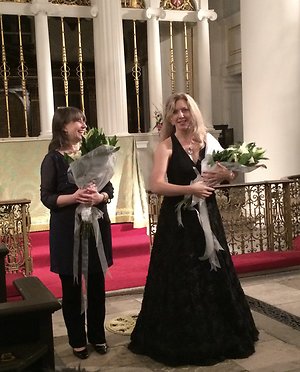 Solo concerts in The Hap'ning Place Concert Series performed by our student vocalists and pianists in Crouch End and Mayfair.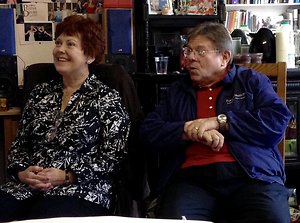 Master Classes and weekend workshops in singing, piano and musical theatre with visiting American professors and jazz with the band Special Edition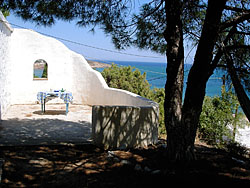 Why not book on our Summer Singing Holiday Workshop and Master Class for Singers on the stupendous Greek island of Chios?
Singing Holidays
for more info.

---
Email us by
Click here
The Hap
'
ning
Place
3 The Campsbourne, London N8 7PN
+44(0)7908771984