Jazz Singers Workshop with Stefano Marzanni March 2016
Singers participated in an all day jazz workshop with pianist Stefano Marzanni
The Hap'ning Place Students Recitals April 2016
Singers, pianists, flautists and string players participate in our three recitals each year.
The Hap'ning Place Concert Series with the Crouch End Festival June 2016
Performers in the concerts this year included
The Hap'ning Place MadriGals
in
Celebrate Music
with Ellen Durkin, Mary Eckert, Angela Joyce & Anne-Marie McCooey with Amy Luyendijk, piano
Julia Chaplin with Caroline Soresby
in
Midsummer Melodies
Ellen Durkin with Caroline Soresby
in
Suite Franšaise
Angela Elliot with Caroline Soresby
in
Tormenti d'Amore
Natasha Hardy with Stefano Marzanni
in
Pazzi Per Amore
Andrew Moriarty
in
The Farewell Tour
Sarah Warren with Caroline Soresby
in
Primo Passo
Schubertiade with Patrick Leresche
and singers Karen Appel, Julia Chaplin, Ellen Durkin, Peter East, James Rose, Hitomi Sakamoto & Rachel Souhami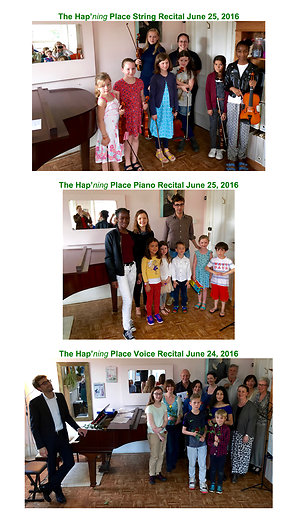 The Hap'ning Place Student Recitals June 2016
Our wonderful hard-working students performing for each other in the Summer Recitals June 2016
The Hap'ning Place Summer Songs and Summer Ensembles Concerts July 2-3, 2016
Congratulations to all our performers! Every year they have the opportunity to work in small ensembles and duets with the other students in these delightful summer concerts. It's always a little doubtful if it will be nice enough to perform in the garden, so this year we decided to play it safe indoors!
Our Fiddle Club directed by Janet Fischer is going from strength to strength and will be performing at venues away from the studio this year!
Singing Holiday Chios August 2016
This year we celebrate ten years of the
Summer Singing Holiday
on the island of Chios. The hospitality and warmth of the people on Chios however, never changes! We spent our mornings rehearsing and the afternoons and evenings on the warm sunny beach of Karfas. We are looking forward to 2017 with a change of venue, but the beach will be the same! Can't wait!!